In Search of New Ways to the International Young Audience
By Olga Zaets (Russia)
In this article, I'd like to share my experience of programming and carrying out the first international online theatre festival for young people – "Better Than Us", Russia. Its first edition took place in May, and the second in June of the challenging 2020.
---
"In March, when all projects got cancelled I thought I should use the time to try something new, to meet new people, to help our professional environment not to lose ties and to open up for the young generation."
---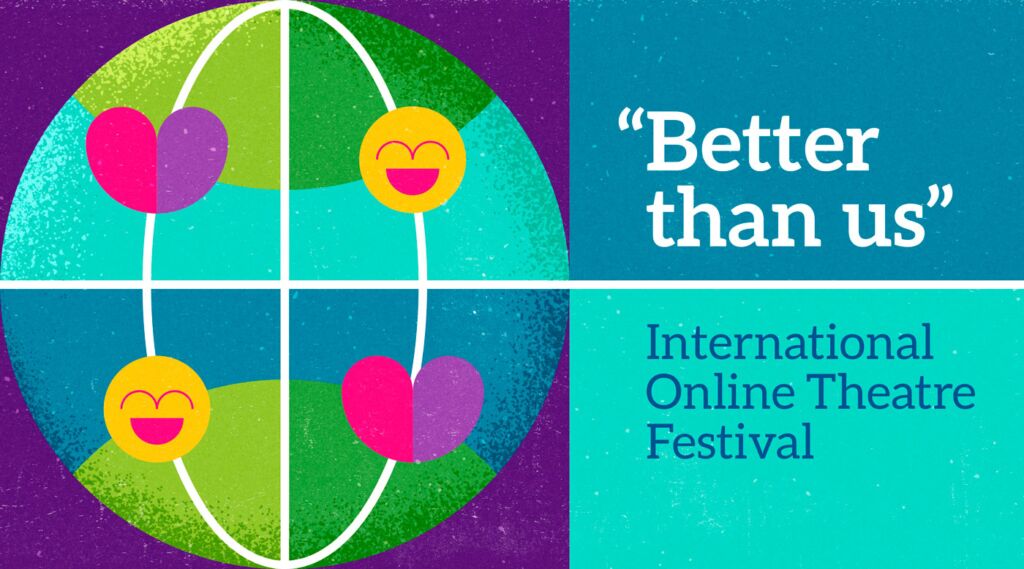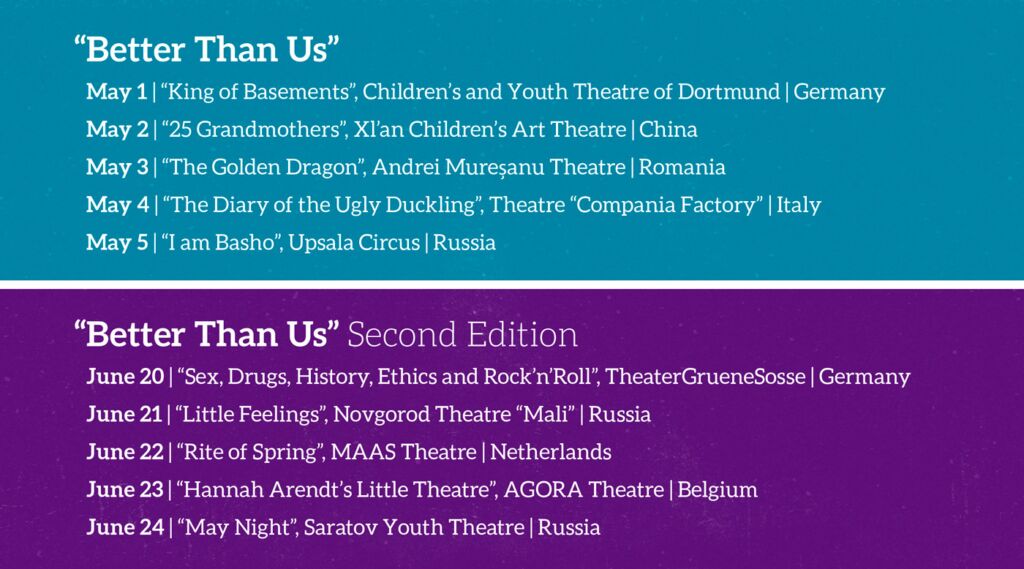 As for myself, I am Olga Zaets, I live in Rostov-on-Don, Russia and before COVID I coordinated international projects at the Rostov Youth Theatre. In March, when all projects got canceled I thought I should use the time to try something new, to meet new people, to help our professional environment not to lose ties and to open up for the young generation. If the only way to do that was online, so, let it be. I thought to give young people locked in their homes who love and miss theatre an opportunity to participate in an international online event, watch theatre shows from other countries, think, discuss, hear the voices of peers from different parts of the world and theatre professionals involved in the creation of the shows, and make all feel that the world is still there.
Back then, nobody was doing international festivals online yet and it was very important for me that colleagues from ASSITEJ Russia and ASSITEJ International supported the idea and if it was not for them, I would have never done it. So, there it was—a 5-day long online festival called "Better Than Us".
The festival audience consisted of an active and a passive group. The active group were 20 young people from different countries, aged 17-25, who watched one show per day and then discussed it with a moderator and the theatre company in focus in the format of a zoom video conference.
The passive group were theatre professionals, teachers, and everyone interested. They committed to watching the same performance, and attend the zoom conference. As the name implies they were "passive" in that the moderators, the active participants, and the theatre company members discussed first, while the passive participants could put comments in the chat box. Each conference session was about one hour long. Information about the festival, the links for viewing the shows and for connecting to the conferences was posted here and on the websites of the participating and partner theatres. Each show was only available for viewing for 24 hours.
At the start we were still searching for the right format for the discussions, but by the end of the first week the group was more familiar with each other, the active participants were felt more encouraged to ask questions and offer feedback and at the end most everyone was happy with the experience. For the active group especially, many participants shared that they never had been at an international TYA festival before, and that it was unlikely that they would have been able to participate "live."
The TYA professional theatres that were invited were excited too: Artistic Director of the Children and Youth Theatre of Dortmund, Andreas Gruhn wrote "The KJT Dortmund is pleased to be part of this online festival. We work in several national and international networks and are always interested in making new contacts. It is an important part of our artistic development to get to know other forms of theatre and visual languages. Every encounter is enrichment. The world as we know it will be completely changed in a few years. We must now look for new ways of exchange and communication. Better Than Us is a step in this direction. We hope to get to know new interesting partners and experience a new way of exchanging. And last but not least we want to have some fun in this time of fear and isolation."
Xi'an Children's Art Theatre, China said "Thank you a lot for organizing this project. I work at Xi'an Children's Art Theatre in Shaanxi Province. Few people heard of Shaanxi Province, but most people have heard of the Terracotta Army which is in Shaanxi Province. The 24 Grandmothers represents the local culture of the Shaanxi culture. Thanks to the International Online Theatre Festival for Young People "Better Than Us" to give us the chance to show our local culture to the audience all over the world at this special time. In the important period of anti-COVID-19, pure human sensation can help and support each other! The 24 Grandmothers is informed with sincerity. I really hope it can give good energy and knit people close together!"
Diana Kržanić-Tepava, ASSITEJ Serbia, helped to organize an audience for the festival, including some of the active participants. She reacted: "I am very much looking forward to starting a different take on this virtual theatrical world, which is the only possible place for us to meet and act. From the outset of this pandemic, theatres around the world generously offer audiences viewing footage of their performances mostly from their repertoire or archives, or otherwise playing in front of empty theatres and streaming productions, and that is approving how strong and important culture is for humanity. But I expect from the artists and cultural creators, especially in theatre, to begin exploring as well this virtual space and discovering the thousands of creative opportunities that new technologies offer as a positive stimulus for new generations of theatre and artists and viewers alike. I am personally very optimistic about this and cannot wait to see the first steps in that direction and the results… In that sense "Better Than Us" is a good shift as giving the voice to young people."
The first edition of "Better Than Us" worked out much better than I expected. The young people, most of whom were recommended by international colleagues working in TYA were amazing—full of energy, open-minded and hungry for new theatrical experiences. During these 5 days they clearly became a team, able not only to express their own thoughts and ideas, but also to hear each other and interact.
Another positive effect was promotion of participating theatres. Because there were programmers taking part in the project it was a good chance for them to present their work. Some theatres got invited to live festivals in the future.
It all inspired me to put together the 2-nd edition of "Better Than Us," which took part in June.
The geography of the festival has changed, the program had a different flavor, but what remained the same was the joy it gave us. Looking and listening to these fantastic young people from all around the world having an urge to have theatre in their lives, to keep talking and sharing despite of political conflicts and biological threats gives hope that they will do better than us. I believe in them. Here are some of their voices:
Delia Duşa, Romania wrote "For me, this festival means unity. I consider that it is very important to keep the theatre "alive" during these hard times. This was such an amazing possibility to watch wonderful shows and to share personal opinions with such a great team! My favorite show was 24 Grandmothers. It is very touching and I loved that I could find myself in its story. The entire atmosphere was created with traditional elements and details, I loved the costumes, the light-design, the dynamism of the show and the music had a very important role because it was also representative for the Chinese culture. It was so beautiful! Thank you, "Better Than Us," for this unforgettable experience!".
Elena Capatti, Italy, shared: "I would like to start telling you how grateful I am for this experience. How could I imagine meeting people from all over the world just sitting in my room during the quarantine? And is there something more beautiful than being united by theatre? That seemed unbelievable to me, but it happened and I already miss it.The offered choice of this innovative festival was wide and interesting, and every performance taught me something new about the culture of its country of origin and about the problems of the society. We should always keep in our mind that the theatre for children and young adults is universal and it can be significant also for the older ones.The first show was "Agent in Play/Danny, King of the Basements" from Dortmund and it deals with the familiar and economic problem of the boy Danny and his friends. It is a story of friendship, growth and mutual help, which allows us to understand the children's perception of the real-life situations. I really appreciated the energy of the actors as well as the scenography, so simple but evocative. For me it was really amazing how they focused on the importance of imagination and fantasy as ways to overcome the obstacles of life! It was a great show!"
I'd like to use the opportunity to thank all the young participants of both "Better Than Us" and all the colleagues from around the world who were there with their advice and support. A special thanks goes to the Theatre Union of Russia for the scholarship they've awarded this project.
Do online theatre festivals have a future—honestly, I don't know. Theatre is something to be experienced live. What was really valuable was the discussion. The way young people progressed in expressing their opinions about theatre proved it to be a good educational tool. Theatres appreciated the opportunity to get feedback from the international young audience too. So, it feels like it was worth doing. The theatre professionals were appreciating hearing the reactions from a new generation of promising TYA professionals.
Since then there have been other wonderful online international theatre festivals for young audience. My personal favorite was "Segni in Onda" by Segni d'Infanzia, Italy with a varied high-quality program.
Of course, our online enterprises can never replace happy real live theatre festivals. But they can definitely help the international theatre community and our audience to survive the difficult times and to remember that we are still there for each other.
---
About the Author
Olga Zaets is a coordinator of international theatre projects and an ASSITEJ member in Rostov-on-Don, Russia. Olga was a co-programmer of several international theatre festivals for children and young people and she launched the International Online Theatre Festival for Young People "Better Than Us."
---
Advertisement