By Kerryn Palmer
The Secret Lives of Sixteen-Year-Old Girls is a New Zealand play written by Sarah Boddy, developed in collaboration with her 16-year-old daughter Lola, and an intergenerational cast and crew. It is a contemporary coming-of-age tale across generations. and follows the lives of 'Mum' and 16-year-old best friends Lulu and Lucy. The play delves into their digital life, the real-life consequences and effects of online porn and the normalisation of rough sex. It is a complex, funny and gruelling portrayal of life as a teenager and as a mother of teenagers. The show swings between the comedy of trying to be a cool parent who can keep track of what the kids are up to, and the heart-dropping consequences of social expectations and normalised sexual violence on our young people.
Presenting such controversial and sensitive material in a way that engages and resonates with both adults and young people requires a careful touch. As director I wanted to ensure that young people were authentically involved in the process, while simultaneously being supported and mentored throughout.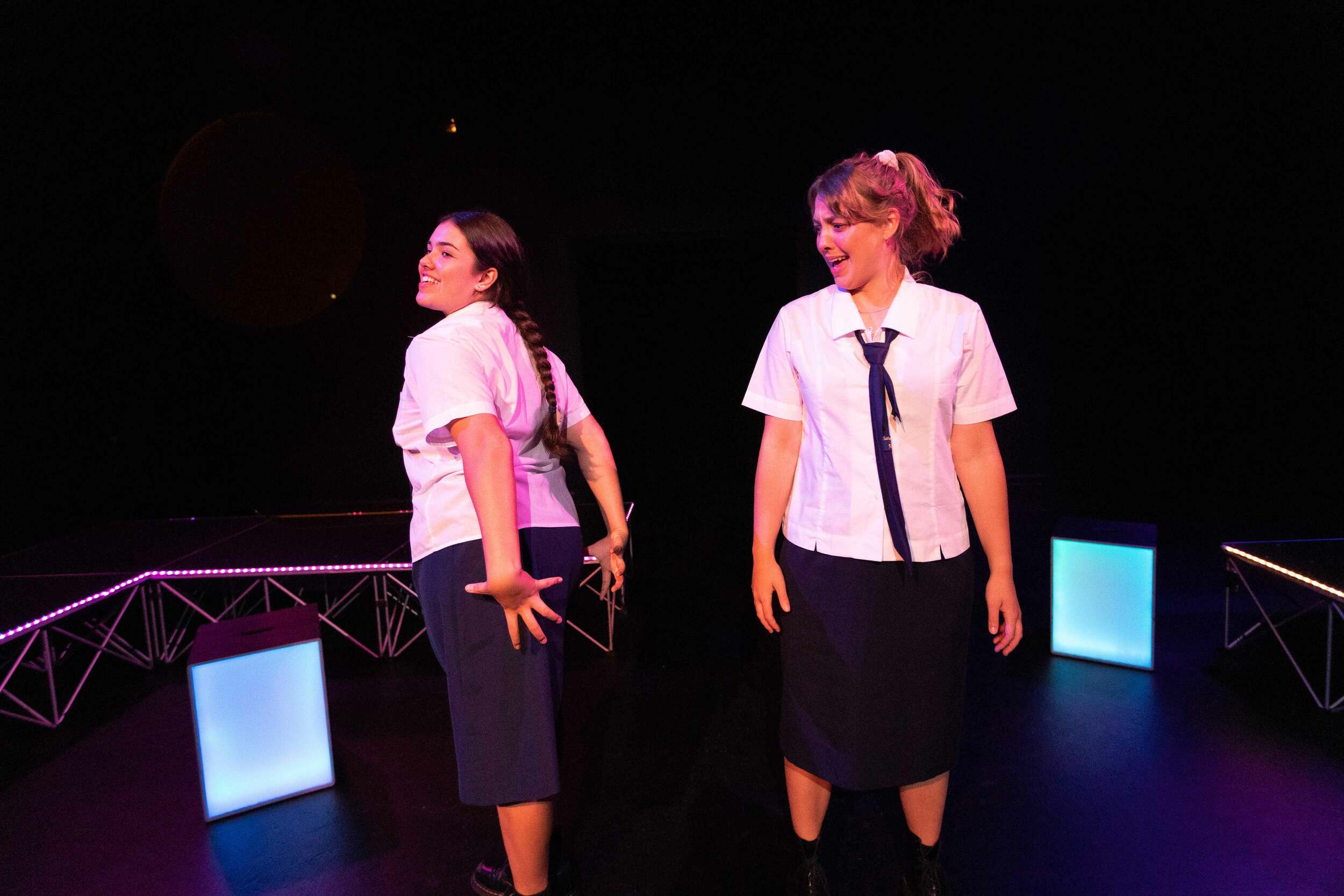 During the writing process Sarah utilised the wisdom and savviness of Lola who helped to craft the dialogue and used her lived experience as a teenager to shape the play. Lola turned 17 during the process, both Sarah and I, (also a mother of teenagers), were cognisant of the extra challenges of putting a young actor on stage in such a confronting piece. We discussed at length ways to make the experience for Lola a positive, supportive and empowering one.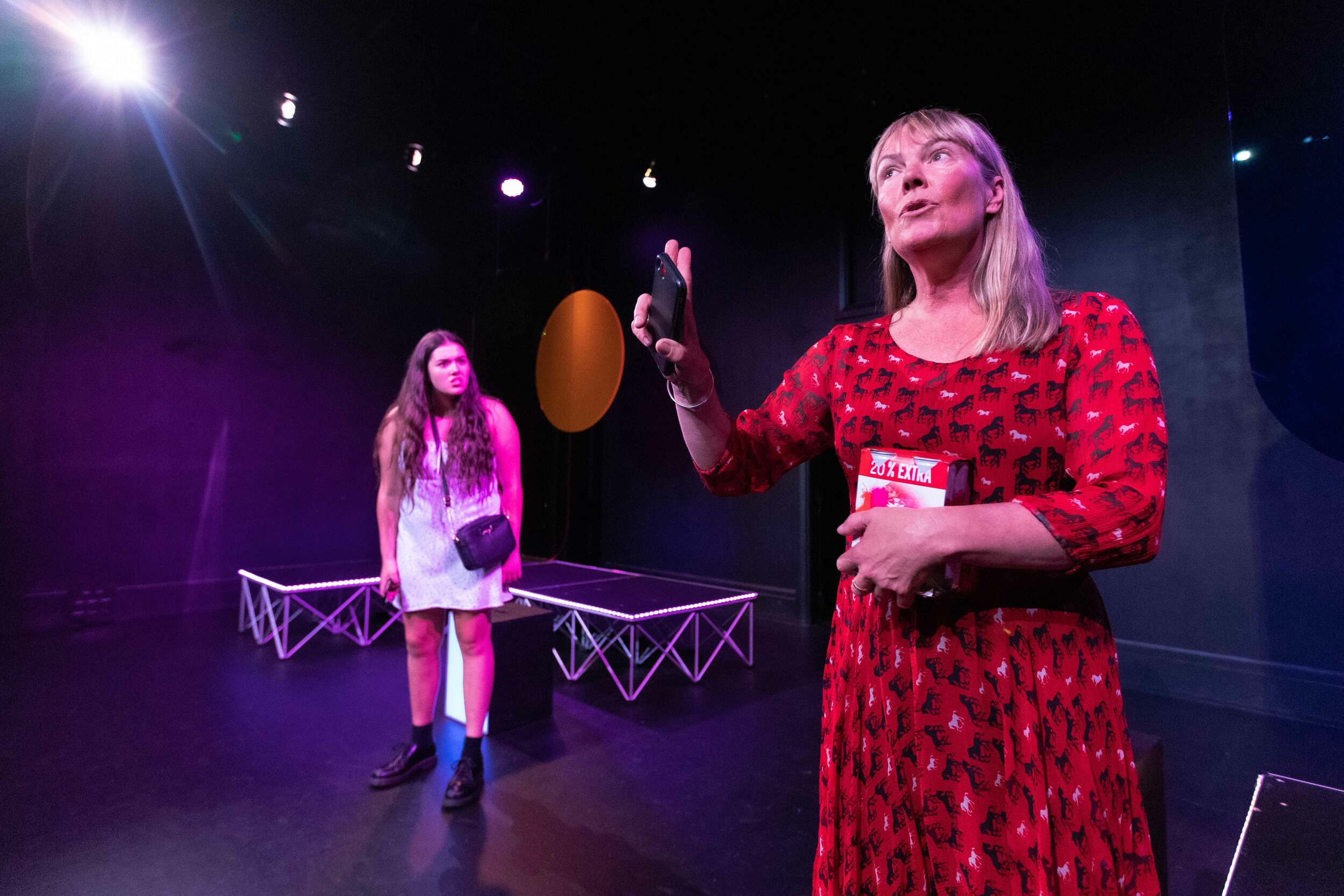 At the heart of the process lay the curation of an intergenerational team and their ability to learn from one another. Sarah and Lola played the roles of Mum and Lulu, recent theatre graduate Emma Rattenbury played the dual roles of Lucy and the Defence Lawyer. Our production's team was formed utilising three levels of generations: A team in their late 40's early 50's, a team in their 20's, (who were a mixture of experienced and emerging practitioners), and our teenage crew of five young people. Each tier effectively mentored and supported the next tier down.
The team followed a reciprocal learning model, where the young people learnt from the older practitioners about the realities of creating and presenting a theatre show, and the older generation learnt about what it is like to be a teenager in 2021.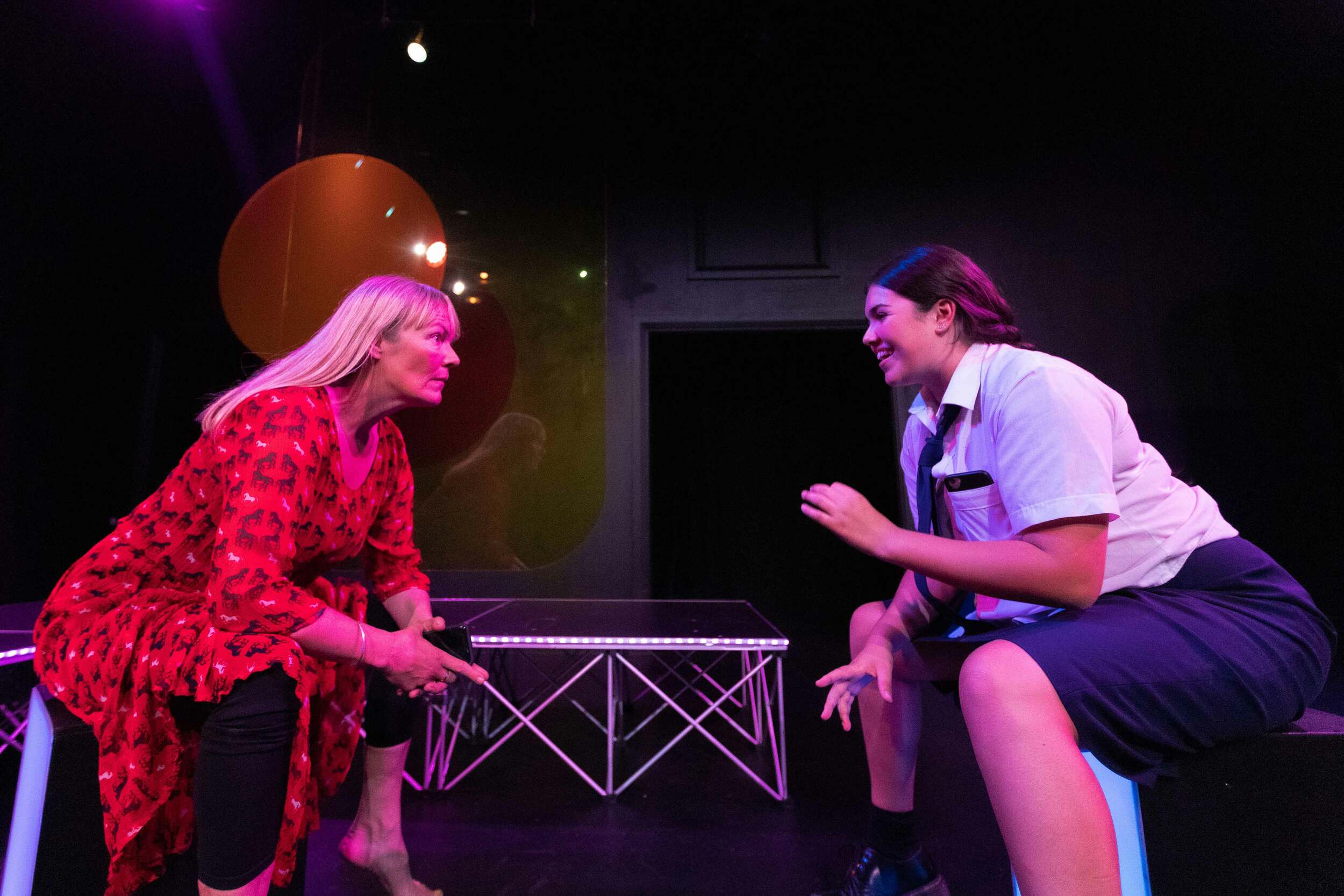 What was particularly successful was the relationship that was set up between Lola, Emma, and stage manager/wellbeing officer Tyler Clarke. Both in their early 20's Emma and Tyler made it a priority to support and mentor Lola and also to be a conduit, if needed, between her and the older collaborators, (one who was her Mum). Emma and Tyler fully embraced this role and the positive relationships that evolved meant that Lola had confidants in the team and people to look out for her if she didn't feel she could express things to her Mum, or me as director. It meant that she was able to be supported on and off stage in a way that we couldn't have navigated as successfully. Having her best friend Holly in rehearsal as an assistant stage manager was an extra layer of support. Utilising this reverse mentorship model allowed us to generate conditions in the rehearsal room that could allow the work to happen safely.
We employed strategies such as:
Setting up regular check-ins between Lola and Tyler.
Giving all ensemble members a forum to speak.
Guiding the group to develop a critical method of feedback that ensured a balance of constructive criticism but upheld their individual self-esteem.
Allowing the group agency over their roles and the final product by empowering them to change things they weren't happy with, and encouraging them to ask: what is best for the work?
This was not always an easy process. However, the practice of reverse mentoring worked particularly well and allowed the group to work productively towards shared artistic excellence while maintaining an open and supportive working method. It is one that endeavoured to ensure that the young people involved had greater agency in the creative process and experienced a collaborative process that empowered them to become generous and self-reflective practitioners. It was also a way to guide the work towards being authentic and speak to a young audience in a direct and honest way that was not patronising or contrived.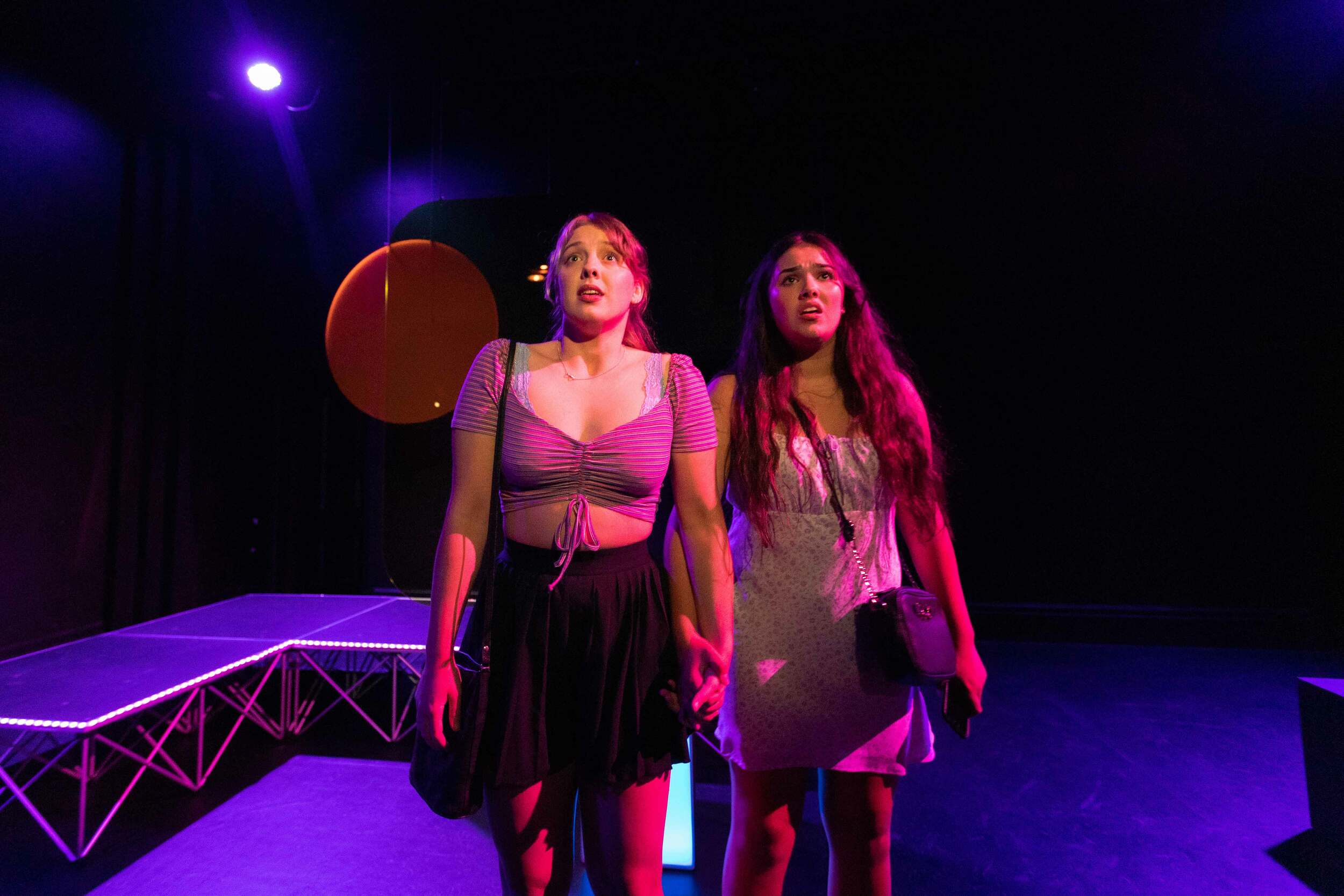 ---
About Author
Kerryn is a New Zealand director and drama teacher She has a PhD in Devising Theatre for and with Young Audiences and is the national facilitator for PAYPA/ASSITEJ NZ.
---